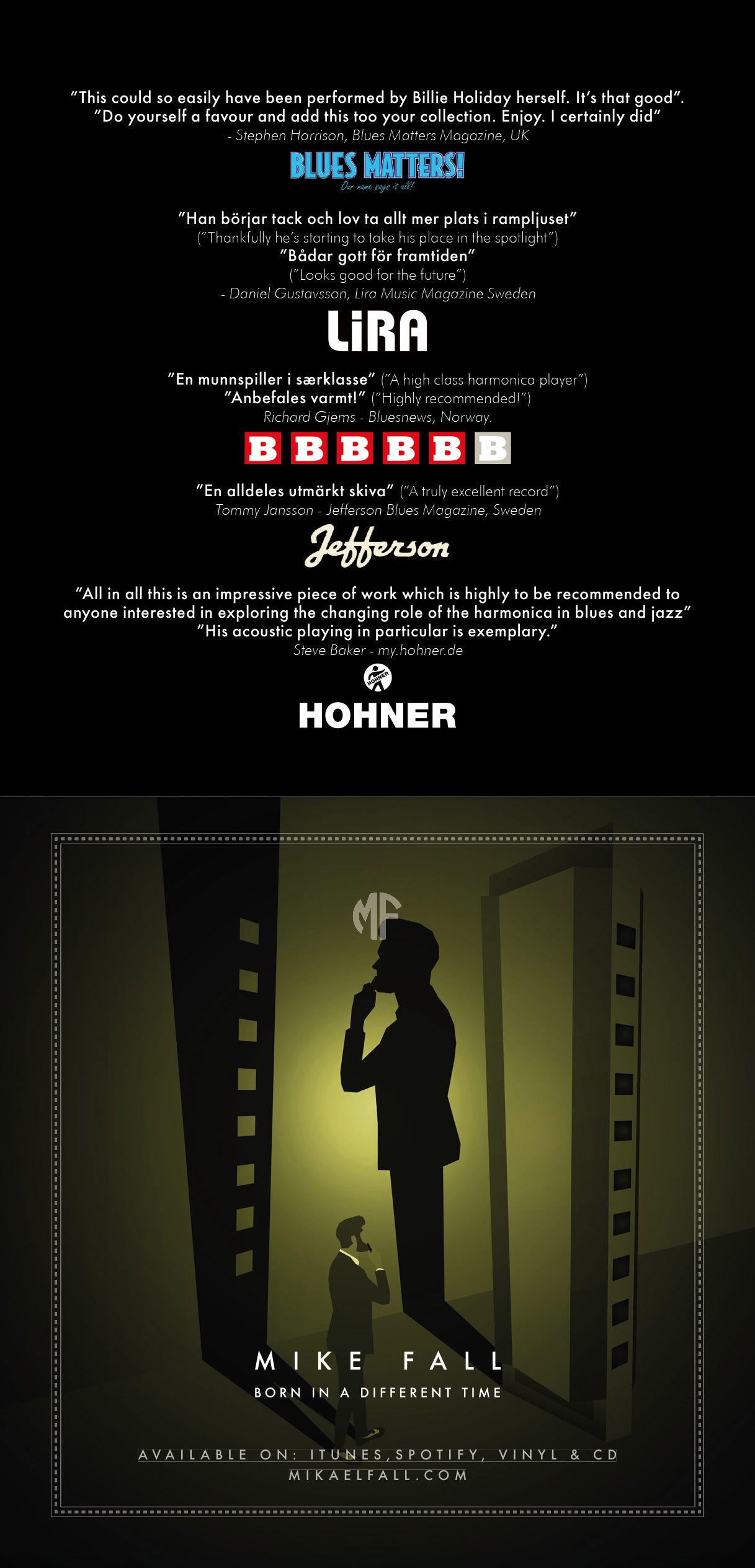 Blues Matters Magazine, UK:
"This is a slightly unusual album. Not musically but for the inner sleeve details. It's the first time I have seen the lyrics with verse 1 verse 2 chorus and the bridge explained where they fit into the song. I like that. I like that a lot.
Musically this is an exceptional offering. Born in A Different Time is the first track. One is immediately transported back to the 1920s in downtown New Orleans or downtown New York. Blues/jazz at its finest. 
I Can't Trust Nobody No More has such powerful lyrics and a very powerful delivery effortlessly guided along by the upright piano inclusion. A man howling his tale of woe ably assisted by this awesome group of musicians.
Who Do You Think You Are has a definite Minnie The Moocher feel about it, great backing vocals complimented by even more harmonica playing by Fall himself.
I Can't Get Satisfied propels you too a juke joint with strong whiskey and smoke whirling around the room. Without taking anything away from Fall and the band this could so easily have been performed by Billie Holiday herself. It's that good. That in itself is testament to how good this album really is, not least because all lyrics music and arrangements have been done by Mike Fall.
The last song on the album Story of a Man does exactly what it says on the tin, a tale of a man's struggle with life's adversities and pain. This may not sound anything special from a blues tale but when you realize that Mike Fall is from the south of Sweden you then understand how effortlessly he makes you feel at home in the deep south of New Orleans.
It is very hard to pick a standout track on here because the album is littered with them. I cannot say anything else except do yourself a favour and add this too your collection. Enjoy. I certainly did." – Stephen Harrison
Bluesnews, Norway:
Mikael "Mike" Fall sin nye plate Born In A Different Time ba- lanserer på en overbevisende måte mellom en skolert, intel- lektuell tilnærming til jazz og blues og en mer folkelig, intuitiv tilnærming til samme domene. Samtidig framstår Fall her som en munnspiller i særklasse, der han på overbevisende måte klarer å fusjonere referanser til modernister som Howard Levy med tradisjonelle fraseringer og et tonalt uttrykk som peker mer mot kanoniserte bluesstør- relser som Big Walter Horton enn mot Toots Thielemans.
Fall synger dertil avslappet og overbevisende. I tillegg løftes albumet ved å bestå av Falls egne komposisjoner og tekster som er pakket inn i gode arran- gementer med et iørefallende jazzkabaret-preg (midt mellom Duke Ellington og Tom Waits, som det står i det medfølgende presseskrivet).
Nå skal det da påpekes at Mikael Fall har særlig gode forutsetninger for å levere en slik utgivelse, gitt hans musikk- høyskoleutdannelse, mange- årige musisering med folk som Lisa Lystam, Eric Bibb og Lars Winnerbäck, samt et VM-gull i diatonisk munnspill fra Trossin- gen i 2013 (!). Like fullt er det den modne helheten som over- beviser på denne plata, ikke akrobatiske solistprestasjoner. Det gjennomgående lydbildet framkaller en nærmest cine- matisk stemning som utgjør en rød tråd gjennom samtlige av de ni kuttene. Mine favoritter er popete "Double Talk" (med en fantastisk munnspillsolo med mute), rhumba-aktige "Black and White" (med besnærede marimba-spill av Mattias Ståhl) og den slentrende mollbluesen "I Can't Get Satis ed" (med nærmest avantgardistisk wah- wah-bruk på munnspillet).
Skal jeg være pirkete, så synes jeg det eneste som trekker ned på albumet er
den elektriske munnspill-lyden på noen kutt. Her synes jeg det hele låter påfallende mer komprimert og mindre åpent/ romlig klingende enn de andre instrumentene på albumet. Til sammenligning er lyden av det akustiske munnspillet igjennom hele plata upåklagelig åpent og stort. Kanskje det er gjort med overlegg. Hva vet vel jeg?
Uansett: Anbefales varmt!
– Richard Gjems
My.Hohner.DE:
World Harmonica Festival 2013 prizewinner Mike Fall from Stockholm is one of Sweden's finest harmonica players. He's also an accomplished composer and songwriter, as his 2nd solo album "Born In A Different Time" makes clear in no uncertain terms. In contrast to many offerings from harmonica players, this is an album of songs with a clear stylistic concept, into which the harmonica is prominently integrated without dominating the proceedings. The 9 tracks are heavily influenced by the Jungle Style swing music of the 1920s and 30s and have more in common with Billie Holiday or Tom Waits than with contemporary blues. Frequently in minor keys and featuring Mike on vocals as well as his excellent harmonica, this set of original tunes was recorded with a great band which really does the unusual material justice. Mike's harmonica playing avoids the pitfall of ostentatious virtuosity for its own sake and is always arranged so that it serves the song. His acoustic playing in particular is exemplary. The songs carry the note of personal conviction and take the listener on a journey which evokes images of smokey clubs, vaudeville circus and early New Orleans jazz. All in all this is an impressive piece of work which is highly to be recommended to anyone interested in exploring the changing role of the harmonica in blues and jazz. As well as diatonic harp, on "Born In A Different Time" HOHNER Artist Mikael Fall also plays chromatic and bass harmonicas. The album is available as a CD or vinyl LP directly from Mike's website www.mikaelfall.com 2 and via itunes, spotify, amazon, cdbaby and other digital streaming and downloading sites. – Steve Baker, moderator for my.hohner.de
Lira Music Magazine, Sweden:
2018 04 05 – http://www.lira.se/skivrecension/born-in-a-different-time/
"Mike Fall har jobbat bakom otaliga musiker såsom Caroline Af Ugglas, Lars Winnerbäck och Brolle. Han börjar tack och lov ta allt mer plats i rampljuset för egen del, bland annat som en del av house/pop-duon Riverfall. För tre år sedan släppte Fall solodebuten i form av ep-skivan When fire turns to smoke, och nu är det dags för hans första fullängdare, Born in a different time.
Influenserna av Tom Waits (särskilt Tom Waits tidigare jazz-år) är tydliga, i synnerhet i I can't trust nobody no more. Men Fall står ändå på egna ben och har åstadkommit en trevlig jazzblandning med rock/pop-stråk. Bland de låtar som sticker ut lite extra kan nämnas titellåten och Black & White.
Lägg därtill otroligt kompetenta studiomusiker och Fall är i mål. Fullängdsdebuten är lyssningsvärd och bådar gott för framtiden." – Daniel Gustavsson
Corren & NT:
2018 04 09 – http://www.corren.se/kultur-noje/jag-kanner-att-man-bara-gor-ett-masterskap-om5128923.aspx
2016 10 20 – http://www.corren.se/kultur-noje/hans-munspel-belonas-med-stipendium-om4343846.aspx